Yep, there is no doubt in my mind that if the doctor took an x-ray of my chest my HONEYDEW would be in the spot where my heart is. After my cat BEIJO suddenly died from cancer I couldn't fathom ever loving another pet as much as I loved him… Not that I am in any way comparing the 2 mind you. It's just that BEIJO & I had gone through so much together.
Well, as the saying goes "Never say Never." I was so utterly devastated when BEIJO passed that I have no words to explain it, I felt like my heart was leaking out of my chest. Yes I kept going to work and taking care of the tremendous amount of responsibilities I have with a smile on my face, but I was an absolute wreck inside. I would come home and just fall into bed inconsolable. I just felt numb inside and then there was the deep ache when I thought of him, it was unbearable.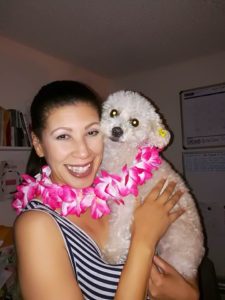 God always has surprises up His sleeve, my HONEYDEW is my HEART DOG. She was custom made for me and fits my personality exactly… it still blows me away that's she's really here. She likes the same things I like, has my temperament and her eyes, endless sweetness and spunkiness melt me.
I found HONEYDEW for a client of mine and I was training her to be a therapy dog.  She was in bad shape when I found her, but her cuteness shined right through all of the abuse she had gone through in her young life. She was barely 2 years old and because of the abuse had several teeth that had to be pulled, missing fur, was sunburned in some areas on her skin and she didn't have an appetite and wasn't eating. That's all changed and so quickly! Love truly does wonders. She now loves to play with her many, many, toys, a snuggle expert, going on car rides, family walks and has a tremendous appetite for snacks and the good life.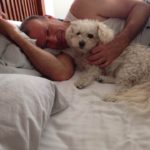 She was the quickest dog I'd ever trained… I mean she's brilliant! I'd show her something ONE time and she got it. Also one of the coolest things to add here is HONEYDEW was the first small dog my husband has ever had. He always had large dogs like German Shepherds and had to adjust to a small dog… Well how times have changed HONEYDEW has my Michael totally wrapped around her curly paw. It's so beautiful seeing them together it totally melts my heart, not to mention his.
Many of you here are my clients and have heard me use the term about your pets "HEART ANIMAL" saying She/He is your Heart Dog or Heart Cat. What this means is this pet actually has taken up so much room in your heart that you have become spiritually connected on a deep level of bonding that is really difficult to put into words and explain. But that your pet totally and utterly gets you and vice versa.
Did you know that loosing a HEART ANIMAL in most cases is more difficult that loosing a human loved one? Well it is TURE and this is one of the reasons why I was so passionate to create this animal movement centered around a pet loving community that was as like minded as I am about our furry companions.
I cannot begin to tell you how many people told me I couldn't do this… But I knew all of you were out there waiting and needed me to help with your pets as much as I needed you. I was told you can't make a test & system based on finding out what kind of personality your pet has and have it be accurate, then create trainings for each personality and charge for it. To me animals are beings that have their own unique personality no matter what breed they are… it still comes down to the specific individual you're dealing with.
As I always say, "When you know you have been sincerely & successfully heard don't you cooperate better?" I know I do. So teaching all of you how to observe & truly listen to what your pet is communicating and then being able to communicate back is my purpose. I never, ever, deal in generalities when it comes to pets, I look at each one specifically and then proceed to set up their individual training program. The truth is,  being told NO unfortunately has been a constant in my life and I am happy to report I ALWAYS listen to my spirit and all of those nay sayer's get proven wrong again, and again, and again.
Who knew there were so many of you. Do you guys know that we have grown to be almost 7,000 pet loving individuals all over the world in the Ask Daniele 4 Pets Community? I am still amazed everyday by you guys… THANK YOU for being part of my dream and making it come true. You guys are so AWESOME!
I feel truly BLESSED to have the opportunity to meet each and every one of you and resolve all of your pets challenges, restore balance and peace in your lives. I don't say this often but I deeply care and love all of you and your furry family members. I consider you my extended family.
All Pets are such a blessing and deserve to be cherish everyday and second. Their lives are short in comparison to the love we all want to share and it is never enough… but the journey is so precious and the healing for everyone involved that the time spent with our furry loved ones is so worth it.
I have a request…. I would love to hear the stories about your heart animals and see some pics of them. Many of you I haven'r had the pleasure of meeting yet and I would like to very much. You can reply back to this email if you like, or email me at beijo@beijoscorner
Until next time remember PETS RULE!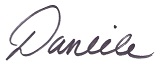 "My Heartbeat BARKS & MEOWS… How About Yours?