Check out these AWESOME Testimonials For PET Behavioral/Whispering Consultations…

Who knows you & your pet could be next

MEET Gabriela & PIQUOSO –

Spraying all over the house
My beautiful boy PIQUOSO who is 9 years old and my heart was a serial sprayer for years. I was at my wits end and on the verge of a nervous breakdown because he had ruined my entire house with his peeing everywhere.
I had tried EVERYTHING! I researched the entire internet about the subject of cat spraying. I tried Feliway, and many other suggestions but nothing worked I was close to giving up. I recently purchased a brand new house for a fresh start and didn't want his old habits of peeing on everything to come to the new house.
I found Daniele and she introduced her miracle product T.E.O.S. The Potty Solution & the awesome training that comes with it. I have to admit I was skeptical at the time but all of that was soon put to rest. Despite PIQUOSO being stubborn and extremely strong willed he ate up the training like it was candy & he absolutely loved Daniele.
Daniele is extremely patient and spiritually intuitive. She showed me that I could do more than I thought I could and her ALPHA Training 101 converted me into being more confident with PIQUOSO and gave me the ability to not give up and out will him. Well now we are 100% POTTY FREE! & I would recommend anyone who is having potty challenges with their pets of any kind to get T.E.O.S. The Potty Solution and the training that comes with it because IT WORKS and I couldn't be more pleased this was the best money I've ever spent.
Meet Gina & TOBIE –  Eating his poop as a delicacy
TOBIE is my newly adopted Doggie Son/therapy dog that ,Daniele placed personally. He had formerly been a therapy dog for another client of Daniele's in a senior center before coming to me.
This little one had already been through so much by the time he became part of my family.  So I expected some adjustments would have to be made in the transition to my home. 
All was going quite smoothly until one day while outside my little one decided to start eating poop! OMG I thought I was going to die. I shouted TOBIE NOOOOOOOOO! To my disgust he proceeded to run in the house chomping away on it. 
You see I have some physical challenges I'm dealing with so bending over to pick up his poop is difficult for me right now. My husband is the one who does poop duty for TOBIE when he gets home from work. To say I was disgusted, devastated and in shock was an understatement. I called Daniele immediately and she explained what was going on with TOBIE and how to fix it. 
TOBIE is no stranger to T.E.O.S. The Potty Solution. This is how Daniele stopped his indoor potty accidents where he was living and potty trained him. Well this awesome product came to his rescue again. She told me to spray one spray of T.E.O.S. The Potty Solution on his poop for a week or two and he would stop eating it.
Immediately when I sprayed his poop he turned away from it and left it alone. She explained that TOBIE was stubborn & strong willed so I would have to do this a couple more times for his behavior to completely stop and it did. I love T.E.O.S. The Potty Solution! This stuff is a miracle in a bottle you've got to check it out for yourself. I use it in a myriad of ways around the house, to stop unwanted potty accidents, pets eating poop, other people letting their dogs poop in front of my yard, stopping spiders and pests coming inside the house when sprayed around window sills and doorways and the list goes on and on.
I told Daniele she's got a customer for life! I cannot say enough praises about T.E.O.S. The Potty Solution. It smells great , is safe for my TOBIE and doesn't stain my floors or furniture. Thank you Daniele! I am eternally grateful
Meet Natasha, Dane, MEEKO & BEAR – Sibling fighting, Territorial spraying, Separation anxiety & Adjusting to new surrounding stress.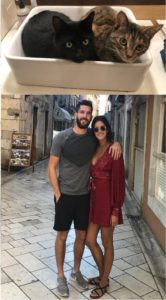 I've had MEEKO & BEAR since there were small kittens and never had any issues until our recent move to California. All of a sudden they were fighting, BEAR (the black cat) was spraying in the bathroom and other places in our new home and both of them were jumpy, anxious and stressed out . I was at my wits end of what to do, they had never acted like this before.
I consulted my Vet and thankfully it was nothing physical. So I went 0n the internet to try to solve these new challenges I was having and of course nothing worked. I found Daniele explained the situation and she scheduled an in-home Pet Personality Assessment for BEAR & MEEKO.
They responded to her right away and she explained to me what was going on with my fur babies. Daniele put together a step b y step training program specifically for my cats and our family. She explained how there was no ALPHA Leadership and BEAR was assuming the role by trying to claim this new territory as his. Also He was communicating to me that he needed & wanted more time from me. She also explained both MEEKO & BEAR were entering adolescence and were starting to compete with one another over the new territory of our home and ME.
Daniele put together a batch of her trailblazing T.E.O.S. The Potty Solution spray with specific instructions to address BEAR'S spraying challenges. This stuff is remarkable you guys! She explained how it worked and BEAR responded to it immediately. She told me how this was a process and because BEAR was so strong willed he was going to test me and she gave instructions of what to do to respond to him. She made playtime schedules & exercises, gave them individual territories, taught them to share, Taught me deeper bonding techniques and best of taught me ALPHA 101 Training. 
Every week we kept seeing both of them get better and better with remarkable improvements… I was relieved, thrilled and amazed. This lady definitely knows her stuff. Now both of them are closer than ever, snuggle together and play together. Best of all no more potty spraying episodes from BEAR.
I am beyond satisfied with my results and experience with Daniele. I have a great connection with her and I'm absolutely telling everyone with pets that are having any types of challenges to have Daniele come to the rescue and balance out their pets. This experience has been so worth it and my husband & I have learned so much. I now know with confidence how to be an ALPHA Leader & what to and when.
Thank you Daniele
Natasha & Dane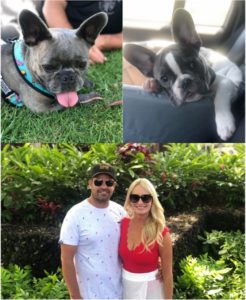 Meet Michelle, Dave, LUCY & GEORGIE – Intergrating a new puppy to an ALPHA Dog who doesn't want him there
My husband & I love our Frenchie LUCY an only fur child, who is an absolute doll & a Social Butterfly. We first met Daniele when we got LUCY because she was having some major behavioral issues such as marking in the house, not obeying commands and aggression. Daniele resolved all these challenges and more. She is an absolute rockstar when it comes to communicating & training pets. Well it's been about 3 years now and my Husband and I were feeling the Puppy craving to get another dog. We found GEORGIE  another Frenchie & just fell in love with him… & YES Daniele told us that LUCY was an only child and getting another dog would create some challenges and asked us not to do it.
Long story short LUCY hated GEORGIE and wanted nothing to do with him. She was becoming depressed and wouldn't eat, play or interact with him at all. I called Daniele immediately, sobbing because my heart was broken I would never do anything to harm my LUCY… She is my child.  She  scheduled a pet session to re-assessed LUCY. Set put together a specific step by step training program for LUCY to accept GEORGIE, remain the ALPHA Leader of the pack, bonding exercises, confidence builder exercises and puppy trained GEORGIE. Daniele is a true Pet Whisperer as well as a Behaviorist and was able to spiritually connect and communicate with LUCY.
After the first couple of sessions LUCY began to accept GEORGIE as part of her pack and is acting like her old self. THANK GOD. To say that we are grateful is an understatement. Daniele explained that we disrespected LUCY by not introducing GEORGIE the right way on her territory. I don't know how she does what she does but I am so very grateful. Our babies are thriving and loving life and are inseparable now.
Daniele is not just a Pet Behaviorist/Whisperer she is part of our family the dogs love her and we do too. I would highly recommend her to everyone who has pet challenges no matter what they are. Thanks Daniele remember pets rule.
We love you!
Michelle & Dave Askew
Meet Alison, JACK, SIMON, NIKKO & MILO – Transitioning a feral cat with severe anxiety into an indoor pet and socializing him with the exisisting 3 cats in the household. Balancing territorial marking and aggressive behaviors and creating harmony.
Before I reached out to Daniele, I was dealing with multiple cat problems in our small and crowded household. My oldest cat, Simon, had been marking all over the house, furniture, shoes, clothes, the floors etc.  for 7 years… It was a mess! Our attempts to stop his behavior, including using Feliway air diffusers, was completely ineffective. We were so frustrated and at our wits end.
Also I had also recently brought a new cat into our household, a feral kitty named Jack, who was very timid, full of anxiety struggling to adjust to indoor cat life and some of the others were bullying him. Because of this I ended up separating him into a room alone where the others weren't allowed for his safety.
After several months of working with Jack and making only minimal progress, I realized I needed some professional help. I found Daniele after doing a quick Google search and as soon as we spoke, I knew she was the one who could help balance our chaotic household.
She did a PET ASSESSMENT of all my kitties and explained how she was going to put together a training program to get everyone on the same page, living in harmony & make me the ALPHA Leader. She specifically told me each cats individual personality and explained how to communicate effectively to that particular cat so they would understand. By doing this it would balance out their specific behavior and create a new one. In short she taught me to speak CAT & it worked!
One of the first changes Daniele made was among many others was having us get a large cat condo for Jack. Once he had a safe and secure place to call his own territory, he started opening up and eagerly sought human affection. I also learned bonding exercises, trust exercises and new ways to play with Jack to help relieve his anxiety, build confidence and help him heal from years of unstable and unsafe living conditions outdoors. She explained some of his improvements (such as socialization) would be slow but consistent if I stayed the course.
For Simon, my kitty with a spraying problem, Daniele made us our own custom batch of  T.E.O.S. The Potty Solution. This stuff Daniele created is a miracle worker! So much more than the spray, wherever it's sprayed the pet won't use the bathroom. I couldn't believe my eyes. But the most impactful change was learning how to become an "ALPHA" for my wonderfully sweet but temperamental cat. Simon had spent years essentially bossing me around, so it took time for both of us to figure out our new dynamic. Eventually, I learned how to read his kitty body language cues to know when he was prone to spray, so I could use my ALPHA skills to stop him before he committed his offensive act and it worked.
After years of covering our house with cardboard boxes to protect our possessions, we are now 99% cat pee free! It feels so empowering to be able to stop my kitties from doing unwanted behavior by simply using the ALPHA 101 Tools Daniele taught me. I also bond with my kitties better these days, since we all feel more secure and at ease living in a stable household with a clear ALPHA hierarchy.
We're still working to fully integrate Jack into our household slowly but surely, which will likely create some new jealous outbursts from Simon along the way, but I now feel confident and well equipped to handle my formerly wayward kitty tribe.
Thank you Daniele For balancing out my household and teaching me what to and when, I feel more confident now that I can handle whatever comes up and have a deeper relationship with all my kitties because of it. I would recommend Daniele & her T.E.O.S. The Potty Solution for anybody who is having pet challenges.
Alison Cooper & KITTIES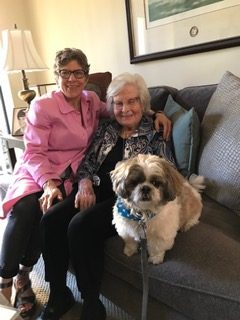 Meet Jodie, Gingy & TOBIE –  Little Shihtzu with severe Anxiety/Agression and no training
I was at the end of my rope when I found Daniele! My mother is in a senior living center in California and her emotional support dog TOBIE living with her had become very aggressive and had bitten my Mom and some of the care givers at the facility, he was excessively barking, going to the bathroom in her apartment and didn't want anyone coming into her place.  
My Mom has dementia and my sister & I both live in different states. Her caregivers at the facility up to this point were the ones walking TOBIE 3 times a day and feeding him… so this was a huge problem because now everyone was afraid of him and wanted him out of there.
Well I made an appointment A.S.A.P. with Daniele to have TOBIE assessed and flew in to see her. She explained his behavior had been triggered by some of the staff handling him roughly and this triggered his territorial anxiety and she put together a step by step training package to balance him out. TOBIE is 6 years old and had never been trained before and we were all very concerned because they wanted to kick him out of the senior living center and Daniele was literally his last chance.
TOBIE responded to the training & her T.E.O.S. The Potty Solution immediately and he adores Daniele and was actually enjoying his training. He began to blossom like a flower, come out of his shell and really enjoy his life. Daniele also included our Mom in the training sessions she began to participate with her which helped her memory recall and bonding back emotionally with TOBIE.
Daniele is very thorough and detail oriented she got the entire staff involved with what to do and not to do with TOBIE. There were a myriad of twists and turns along the way in this process, not to mention dealing with the various personalities involved. Daniele is not only a Pet Whisperer but a Whisperer of people. She had her hands full and pulled everything off  that was asked of her and more, she truly has a calling to do what she is doing. TOBIE is safe and balanced out now and can keep his home.
She went beyond the call of duty and got everyone on the same page flowing smoothly. My sister and I are highly satisfied! Daniele and her T.E.O.S. The Potty Solution we call her TOBIE & Mom's angel here on earth. She is a miracle worker as far as we are concerned and I would recommend her to anyone who needs a Pet Behaviorist/Whisperer in a hopeless situation. She has taught all of us there is always hope.
We are very grateful and relieved
Jodi & Pam Streitenburger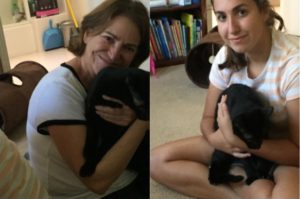 Meet Sherry, Talia, OLIVE & PEPPER – Territorial marking EVERYWHERE
Our Black house panthers are siblings 2 boys OLIVE & PEPPER. We found them as babies and we decided to keep them, all was well until they turned about 1 years old. All of the sudden they were spraying their urine all over everything! The floors, the furniture that was in the room they were being kept in, so much so we had to get rid of all the furniture.
The cherry on the cake was when one of them starting peeing in the bathroom sink attached to their room right in front of me. I love them but that was it! & my husband wanted to get rid of them immediately. My daughter found Daniele and explained our desperate situation for help and that she was our last hope.
She immediately did an assessment of the cats and explained how all of this could be resolved. I have to admit I was skeptical. But to my pleasant surprise both cats responded to her T.E.O.S. The Potty Solution & training immediately.
If I hadn't seen it with my two eyes I wouldn't have believed it. I was amazed… In a good way. After a week, still no potty accidents. After 2 weeks still nothing, 3 weeks now going on 2 months and we are completely potty free.
Daniele is an animal whisperer and the real deal. Not only is she excellent with the pets but she is patient with the humans also. She is very thorough and consistent. I told her her T.E.O.S. The Potty Solution should be sold world wide and everyone should know about this product.
The boys are thriving, happy, calm and balanced. Who knew you could train cats. Daniele has made a believer out of me & my family. If you are having any type of challenge with your pets I would highly recommend you get in touch with this woman, she is a life saver.
Sherry & Talia Hajjar
Meet Annie &  CHLOE, JINX & HARVEY – Territorial Potty accidents everywhere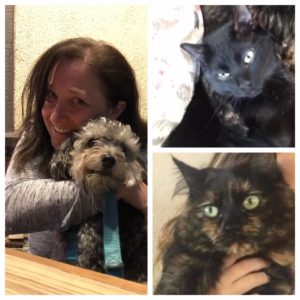 I was seriously at my wits end! My 2 kitties JINX & CHLOE were using my beautiful home and my furniture as their personal litter box and the smell of urine was unbearable. Also my heart dog HARVEY had never had any formal training. So in short we were a chaotic mess.
As a last resort before I lost my mind I found Daniele after searching the internet and she immediately booked a in-home pet session to assess all of my pets. 
Daniele explained that there was no ALPHA presence in the home with my pets and they were all fighting for own their territory… & the main territory they were fighting for was me. She further explained how she was going to give them all their own personal territories, teach them share and respect each other and most of all teach me how to communicate successfully to them.
What came next if I hadn't seen it with my own  2 eyes I wouldn't have believed it. She put together a step by step training program for all of the animals. Before now I didn't even know cats could be trained, but they can.
Daniele's patented T.E.O.S. The Potty Solution spray is all natural so it won't harm the pets or your furniture. Wherever the T.E.O.S. is sprayed the pets will not go potty. She also has tools that directly work the T.E.O.S spray to make it full proof.
Daniele is a God send and a miracle worker! I will be forever grateful for her help. My pets, family and our house is full of love, harmony and peace everyone gets along beautifully.
Daniele truly has God given gift when it comes to animals… & people. If you need help please do yourself a favor and call her right away you will be pleased.
Annie Froehlich & pets
Meet Sabrina & ROSY – Territorial marking all over the house & using the bathroom outside of the litter box.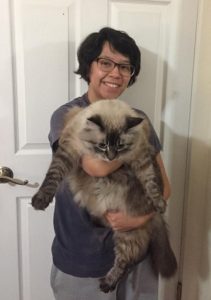 ROSY is 11 years old and the sweetest cat ever. She started territorial marking all over the house and going to the bathroom outside of the litter box, so much so that I became nose blind to her urine… but not my parents. They said if this behavior wasn't corrected ROSEY would have to go.
We had tried all kinds of solutions, multiple litter boxes in different places, no marking sprays etc. and everything had failed. Everyone was frustrated and my Mom said her beautiful house smelled like urine. 
I was desperate. I searched and found Daniele a Pet Behaviorist/Whisperer and immediately convinced my parents to hire her. She came and did a in-home pet assessment of ROSY and told me her behavior was directly connected to anxiety, lack of socialization and no ALPHA presence.
She put together a step by step training program for ROSY & I and introduced her patented T.E.O.S. The Potty Solution Spray she created for people and pets just like us in our situation. Wherever we sprayed the T.E.O.S. ROSY would not go to the bathroom. Of course my bedroom was the last place of progress with ROSEY but the rest of the house was potty free and my parents were thrilled.
Daniele taught me how to communicate to ROSY and begin to train her. Yep cats can be trained go figure. We saw immediate progress with ROSY and she began to slowly come out of her shell. 
She now listens to me and is improving by the day. I learned how to be ROSY'S ALPHA Leader and understand her body language. She is very vocal with me now that she knows I can understand her. 
Daniele confidence builder exercises were awesome! ROSY now has her own territory that fits her personality and looks forward to the schedule Daniele created for us everyday. I totally loved this experienced and would highly  recommend everyone to experience it.
Now my ROSY gets to keep her home and I am thrilled. I am studying to be a vet and I will apply everything Daniele has taught me, because I know this experience has put me ahead in my career.
Thanks again Daniele
Sabrina & ROSY
Meet Arlene & JAZPER – Potty accidents randomly all over the house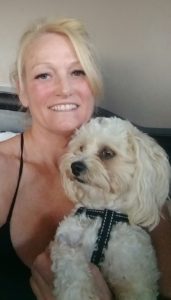 My JAZPER is the love of my life and my baby but all of his adorableness couldn't make up for the fact that he was peeing & pooping all over the beautiful home we share with my roommate.
I wanted & needed JAZPER to go potty in a very specific area (The Potty Enclosure) which he was out right refusing to do. We had tried other trainers before and they failed.
I have a very busy schedule as a fight attendant and was at my wits end trying to resolve this issue on my own.
That's when we found Daniele and she scheduled a in-home pet assessment with JAZPER and the other 3 dogs that occupy the home.
She explained that JAZPER was a Social Butterfly, extremely smart with a stubborn streak. Because of this she said we had to keep JAZPER'S training fun so he would stay motivated to learn.
Daniele has created her own Patented T.E.O.S. The Potty Solution spray with specific training for your individual pet whether cat or dog that works immediately and stops them from going potty wherever it is sprayed. It is all natural, smells great and doesn't ruin your floors or furniture. I call it a BLESSING in a bottle.
She put together a specific training program for JAZPER that would resolve his challenges. I noticed an improvement in JAZPER in our very first session. She explained how he needed an ALPHA presence the right way without bullying because that would break his spirit.
The thing about Daniele is not only is she knowledgeable about training but she is a true Pet Whisperer also. She is very observant, intuitive, creative and thinks outside of the box. She only trains with positive reinforcement, never yells and loses her patience.
JAZPER was eating this training up and excelling in every way. He was totally enjoying himself and so was I. I am so proud of my baby boy, I got to see what he was actually capable of.
The truth is not only does Daniele train pets she trains the humans as well. She taught me how to communicate successfully with JAZPER and now he listens to me.
Daniele addressed and resolved all of JAZPER's challenges successfully. I would highly recommend her to anyone who needs help with their pet challenges. She's a God send & her T.E.O.S. The Potty Solution is awesome.
Thank You Arlene Melhorn
Meet Alex & DEXTER – Aggressive and Over possessive of owner Kitty with anyone who came too near.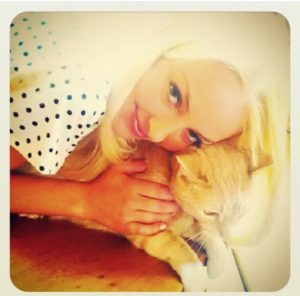 My DEXTER is 8 years old and very affectionate. All of the sudden one day he aggressively attacked my roommate out of the blue while we were horsing around in the kitchen. He has known her for years and had never acted out like this before. He bit and scratched her so badly we had to take her to the ER.
After this incident he began acting out aggressively with everyone in the house including ME. I didn't know what to do, I love my DEXTER and didn't know what was going on with him. I immediately took him to the vet to see if something medical was happening with him but the Vet said no he was perfectly healthy this was all emotional and I needed to find a Pet Behaviorist to resolve this issue..
I searched and found Daniele and she came and evaluated DEXTER in our home. She explained to me why DEXTER was acting this way and put together a step by step training program for not only him but me too to resolve this challenge we were having.
DEXTER took to Daniele right away and she began to Whisper to him. She explained to me he was acting out because he was overly protective of me and how I needed to be his ALPHA Leader so he could respect and listen to me more and be overall obediently trained. She told me that she was going to teach me to speak Cat to DEXTER and communicate with him on a deeper level so we could deepen our bond.
Daniele laid out a easy to follow step by step plan of how to be DEXTER'S ALPHA and it worked! He was listening to me and doing what I asked him to do. I learned that DEXTER is very, very intelligent and stubborn. I had to learn how to use my body language and the 3 voice tones to communicate to him what I wanted and when I meant business and out will his being stubborn all while being patient and consistent.
I also learned I wasn't spending enough alone time with DEXTER and how to Catify my room as a sanctuary that fit DEXTER"S personality. Daniele selected specific products and tools for DEXTER that complimented the training she designed for us. DEXTER excelled with his training and I am happy to report he is happy and balanced not acting out aggressively with anyone in the house anymore. I am thrilled!
I am very pleased with Daniele and would recommend her to anyone having Pet challenges. She thinks outside of the box and gets the results you need, with patience and keeping things fun. I have my baby back and now I know what to do by reading his body language if he gets out of line.
Thank you Daniele
Alex D'Alessio & DEXTER
Meet Klara & ABBY – Kitty Escape Artist anytime the door is open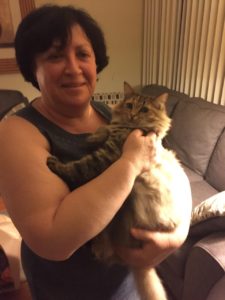 My ABBY is a rescue and is the sweetest Cat I've ever had. One day she decided to escape from the front door and we couldn't get her back I was beyond terrified and when I did find her she wouldn't come to me and I was very frustrated and was worried about her safety.
Finally we got her back inside safely but then she had a taste of escaping outdoors and kept trying to constantly get out when the door was open. We live in a very busy neighborhood with lots of dogs and that spelled disaster.
I began to search the internet and found Daniele, I called and booked a pet session right away. Amazingly right in the first session Daniele bonded with ABBY and started to get results that day. I had no idea ABBY was that smart she was totally eating this up.
Daniele explained to me the type of personality ABBY has ( Social Butterfly) and how to train her easily and quickly based on her findings. She has developed a very accurate system to assess pets based on their personality, I had never heard of anything like this before & I was intrigued how true it was.
ABBY loved the training and excelled very quickly. I learned how to speak Cat & communicate with ABBY and she started to really communicate back with me, I was absolutely thrilled because I would do anything to be a good Cat mommy to my ABBY.
Daniele showed me how to be a ALPHA leader the correct way and it worked! I love her methods of teaching, she is very patient and consistent and ABBY really took to her and was enjoying herself and so was I. Daniele showed how very intelligent my ABBY is and how some of her behavior was because she wasn't being stimulated enough and she was acting out of boredom.
We Catified our home and now ABBY has her own places  and furniture that suit her individual personality. Who knew she was so particular? She is now happy and content… just the way I like it.
I would definitely advise all pet owners to work with Daniele to resolve all of your pet challenges today!
Klara & ABBY
Meet Victoria & NATASHA – Severe Anxiety Kitty who bites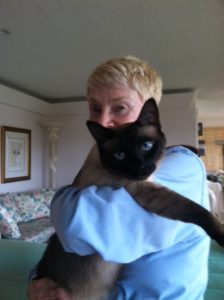 I've had my NATASHA since she was a kitten. Over the years she's become afraid of everything, any kind of noise, new people and quick movements. Recently she fell off of her kitty condo and hurt her leg, the leg healed perfectly but since then she hadn't ventured to go back up onto her condo and had lost all interest in it. She had also developed the bad habit of biting me & just didn't seem happy and it was breaking my heart.
I searched and found Daniele and explained our situation and booked our pet session. I was pleasantly surprised how NATASHA came out immediately to greet Daniele as if she already knew her… She really doesn't take to new people, but there she was talking and letting Daniele touch her. Immediately I felt at ease and knew I had found the right person to help us.
Daniele is very patient and kind, not only with the animals but with the owners also. She really took the time to explain everything to me and made sure that I understood. She told me that she was going to teach me how to speak Cat and communicate with NATASHA and learn what she was communicating back. Daniele stated everyone including animals want to be heard and understood. I was intrigued and wanted to learn more.
From the very first session with Daniele NATASHA began coming out of her shell. Daniele put together a step by step training program for both of us and it worked! Training was fun, quick and thorough.
I learned NATASHA'S body language and what she was communicating to me and sure enough I was able to communicate back to her with confidence, and she responded beautifully, I was thrilled!
I learned how to be NATASHA'S ALPHA Leader without being a bully. I learned the technique of play with a cat the right way. How to touch NATSHA and where her sweet spots are. How to get NATASHA to come to me on command and much, much, more. Now our bond is deeper and will continue to be for years to come, I couldn't be happier.
I would highly recommend Daniele to help anyone who has challenges and are struggling with their pets. 
Dr. Victoria Berck
Meet Lisa & LILY – A Rockette who was very aggressively reactive to other dogs and her territory.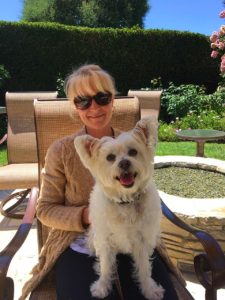 My LILY is a rescue and the most wonderful dog ever! She is my heart doggie and really ended up rescuing me.
Only challenge was she was very reactive to certain dogs on walks and around her territory. This made me very anxious when out walking with her or when other animals approached us.
As a result of this I started avoiding other dogs, people and situations to keep her & myself calm. I tried a few training suggestions from different sources with no success.
Finally I had enough and decided to to something about it and get some help. That's when I saw Daniele's card while at Starbucks getting my coffee.
Daniele came to do a in-home Pet Assessment of LILY and we saw results right away. From the time she came in the door LILY responded to her presence and energy. She was calm and came right over to her, this was a great sign. We had never seen LILY react this way before.
Daniele explained that LILY was a ROCKETTE (A female Rocky) and was over guarding her territory. She told us what triggers LILY to respond this way and put together a step by step training program to resolve her challenges. We saw results from LILY in the very first session we had she was a different dog.
LILY rocked her training and so did I 🙂 Daniele only trains with positive reinforcement and is very, very, patient & thorough. She showed me how to be LILY'S ALPHA leader and use my body language & correct voice tones at right time. LILY responded right away I was thrilled.
I learned how to read LILY'S body language and to anticipate what her trigger distances are and apply the specific training tools Daniele taught me at the right time. LILY began to excel beyond my wildest dreams and now we can walk with ease and go around other animals with confidence.
I had no idea that my own anxiety was directly connected to LILY. She was over guarding ME because I was part of her territory. All of Daniele's trainings are easy to follow and they work she's a God send!
I am so pleased with LILY & myself and my confidence has soared of what I can expect from both of us.
I would highly recommend Daniele to anyone who loves and needs help with their pets. Anyone who learns her techniques will reap rewards for years to come because they work! We are very pleased & satisfied.
Meet Miriam, Theo & LUCY – Training A Rambunctious puppy bouncing constantly between 2 homes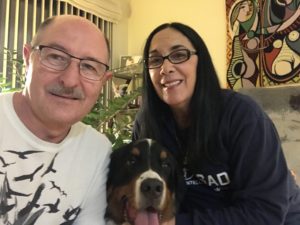 We are the proud Grandparents of LUCY a Gigantic, Rambunctious, Bernese puppy. Both we & our son have had Bernese dogs before…. but Ms. LUCY was am original case because she was living constantly between 2 homes going back and forth. Getting everyone on the same page at the same time was proving to be challenging… not to mention overwhelming LUCY.
I met Daniele one afternoon at Costco shopping. She was attracted to the t-shirt I was wearing of a German Shepherd. We struck up a conversation and she told me what she did and handed me her card. You know how you meet someone and they stay in the back of your mind? Well, that's exactly the case here. When my son got LUCY she had never been trained before and the trainer he selected didn't work out & I suggested Daniele.
She came to our home and did a pet assessment of LUCY'S personality and put together a original training package that specifically suited LUCY'S personality type and our needs as a family. Our LUCY is a very sensitive, shy, stubborn puppy who has focusing challenges. Daniele is very thorough and patient. She explains everything so that everyone understands and can apply the teaching correctly.
Not only did she put together an awesome training to address all of our challenges, she hand selected numerous products that worked to make the process go quicker & smoother. LUCY adores Daniele and we started seeing results right away. Daniele keeps the process fun & simple so no one especially LUCY got bored . 
She not only concentrates & trains the animals but the humans also… she is a stickler about the homework. I realized I needed to be more patient, consistent & focused when working with LUCY. Daniele definitely thinks outside of the box which kept everybody on their toes. She explained the best way to get results from a personality like LUCY'S & it worked like a charm.
LUCY knows all of her commands and does them immediately when asked. She in the first 4 days learned to SIT, STAY, COME & DOWN like a pro. She learned the boundaries of the areas she was not to go into… like the bedroom. Potty training, Leash etiquette so we don't get pulled down the street walking her. Also how to stop begging at the dinner table, how to be left alone at home independently without separation anxiety & destructive behavior.
Above all we all learned a new way of being the ALPHA leader with LUCY so that she could have confidence to trust us completely. Daniele has created a system that involves 2 active parts of the ALPHA the Male & the Female. It is never necessary to yell or bully a pet into fear to get them to obey you. She taught us the body language of the ALPHA and LUCY responded immediately. 
I could go on and on about everything we learned in our experience with Daniele… this testimonial is just a small tip. I would definitely recommend her to anyone who has pet challenges. She is very loving, dedicated and talented with great instincts. She juggled everything our family had going on and resolved all our pet challenges with ease.
Thank you Daniele for everything WE LOVE YOU!
Miriam & Theo Misaresh
Meet Leann, Jeff & ROXY – Training a EXTRA SENSITIVE Puppy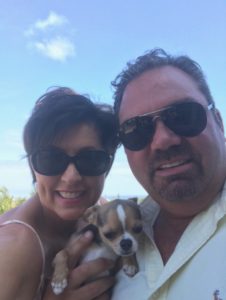 We received our ROXY when she was about 4 months old. We specifically searched for a dog that was a Social Butterfly, our last dog was very particular who she was friendly with & who she wasn't. This time we wanted  our fur baby to engage with everyone, so we took our time to find ROXY.
She was just what we were looking for sweet, affectionate & just a all around love bug with lots of spunk. Soon we realized our ROXY was very different from all the dogs we've had before. She was very emotionally sensitive, skittish and stubborn.
My husband & I sought out help immediately and found Daniele. She came to our home and did a in home pet assessment of ROXY'S personality and explained to us specifically what & who we were dealing with. She then put together a training program to bring ROXY out of her shell, motivate her to learn while keeping things fun & communicate to her successfully.
She explained that traditional training would not work with our little sensitive princess & took us through the program she created for us step by step. Daniele is very patient, clear in the way she communicates to the pets & humans and creatively thinks outside of the box to get the results you need.
We saw results from our ROXY the very first day. One of the main keys for ROXY to learn is to slow down, keep things light to really get her to focus. Daniele's ALPHA training is revolutionary it involves both Male & Female characteristics and is very effective. She basically taught us to speak dog & ROXY responded immediately.
I am very pleased with the results of our pet sessions, ROXY is growing up & thriving. She has completely come out of her shell, she knows her foundational commands, walks perfectly on a leash, is potty trained & much, much, more 🙂 I would definitely highly recommend Daniele to anyone who has pet challenges, she exceeded our expectations on every level. She really loves & cares about your pets & the people too.
Gratefully the Stillers,
Meet Michelle, Dave & LUCY – Teaching our new PUPPY Everything!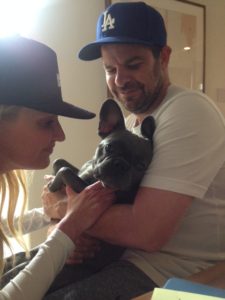 When we first brought our LUCY home we were totally in love… I mean look at that face can you blame us? Reality set in a few weeks later that we needed her to be trained A.S.A.P. Daniele came highly recommended from a colleague of mine who had received fantastic results with her dog.
Our LUCY is a Rambunctious, Social Butterfly, Tom Boy/Princess with loads of energy. We tried some similar training techniques that had worked on our previous dog Sam but they did not work. with Ms. LUCY we needed something new & we needed it NOW!
Daniele came to our home and did a In-Home Pet Personality Assessment of LUCY & explained to us how to proceed training and communicating to her successfully. We saw an immediate difference in LUCY'S behavior in our very first session. Lucy responded quickly to Daniele's training style and she was having fun doing it.
Daniele is thorough, warm, kind and very engaging she definitely knows her stuff. She put together a specific training package for our family to resolve our challenges that included potty training, door boundaries, guest protocol, leash etiquette training, ALPHA 101 TRAINING & much more. 
Our homework was sent 24 hours after our sessions and it was easy to follow and understand. It was like having Daniele training there with us. She also has follow up phone consultations to make sure we understood everything and were doing it correctly.
LUCY loves to learn! We also discovered how training LUCY involved re-training us to be her ALPHA. Daniele has a new take on traditional ALPHA training. She believes in positive reinforcement & never yells or bullies and it's very effective. LUCY is very bright but is a Smarty pants and gets bored easily so it is important to stay one step ahead of her at all times.
Daniele is very patient and knows the pace in which your personal pet learns. We have learned so much about our LUCY & ourselves she has improved beyond words. We have bonded deeply with Daniele, she is a part of our family. We are very pleased & satisfied with our results. I see the impact Daniele has on pets & how they are transformed for the better.
We would  absolutely, 100% recommend Daniele to family, friends & anyone who loves their pets and are looking for the next step to a life with them filled with good health, love and happiness. I have already recommended her again! WE JUST LOVE HER!
The Askew Family
Meet Linda, Kyle & MISSY- Introducing NEW Baby to 9 year old rescue with severe anxiety challenges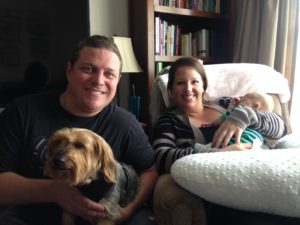 Our 9 year old rescue MISSY had been the only baby in our household before I got pregnant. She is a sweet, affectionate & very social princess who had never given us any behavioral problems. So imagine our surprise when we brought ALLY our new born home and introduced her to MISSY and she snapped at her twice… I was heartbroken & shocked and sent MISSY to live with my parents until we found someone to help us.
MISSY has never had any formal training so I really didn't know what to expect with her. We found Daniele & she came and did a personality assessment of  MISSY and put together a training program specifically for our family and situation. She explained how MISSY was having territorial anxiety toward the baby and noise sensitivity to her crying & how she was going to reverse this and teach MISSY to share and balance out her anxieties.
We saw improvements with MISSY after 2 sessions. Not only was MISSY in training, but we were too. Daniele taught us how to successfully communicate being the ALPHA to MISSY so that she would trust us to be her leader. We learned how to read  her body language and how to get her to focus on what she was being asked to do instead of reacting to her anxiety. 
MISSY responded very quickly to the training, which has resulted in her learning how to control herself when she's feeling anxious. She used to bark uncontrollably at the stroller, or anyone walking past our house and she was very noise reactive to the front door. 
Now she knows and obeys commands given to her, she walks much better on a leash and is overall calmer. MISSY still has more work to do to completely resolve her challenges, but we can definitely see the light at the end of the tunnel.
We learned how emotionally sensitive & smart MISSY is and how she thrives on positive reinforcement and consistency. We have learned how to be more patient with her and each other during this process and not to rush. MISSY is a new dog and soon she will be coming home for good to be with her family.
Daniele is very patient, kind and a thorough teacher & MISSY adores her. She truly cares and loves what she does, I would highly recommend her for anyone who is having pet challenges.
Linda & Kyle Lindsey
Meet Debbie & GRAHAM – NEWLY Adopted Rescue with Severe Separation Anxiety challenges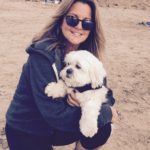 My GRAHAM was rescued at 4 years of age. When I saw him it was love at first sight he is a lovely, sweet, affectionate little dog with a gentle temperament. Because of this Daniele has named him LOVEBUG.
When I got GRAHAM home I soon discovered he had severe separation anxiety and never wanted to be left alone without me. Soon I was beginning to feel like a prisoner who could never leave home because he would freak out.  I tried leaving him with day sitters & crate training but nothing was helping.
I found Daniele and she did a in-home pet assessment to first find out his personality. My GRAHAM is a Einstein, which means he is extremely smart and is capable of being quite stubborn. 
We started on confidence builder exercises to get GRAHAM out of his shell. At first I was carrying him up the stars because he was afraid of them and had had a injury which made his back legs weak. Daniele trained him to walk up the stairs on his own …. which saved my back tremendously. Now he runs up them everyday on his own.
She also started teaching GRAHAM foundational commands and ALPHA training for both he and I. She selected a specific calming formula for GRAHAM to help balance out his anxiety and help relax him… He still really fights giving into it but is getting better, I told you he was strong willed. 
She also taught me how to read GRAHAM'S body language to let me know what state he was in and what to do about it. Oh and did I mention she gave GRAHAM massage therapy to relax and strengthen his legs… She taught me how to do also.
Progress is slow but steady with GRAHAM. Daniele said he is coming along but needs more time with the exercises she gave me & if I continue to practice consistently & diligently using all my tools she taught his challenges would be resolved.
I am vey pleased with Daniele and would recommend her to anyone who has a pet with similar challenges. She is truly passionate about her work and will deeply care about your pets.
Debbie & GRAHAM
Meet Jan, Scott & BUDDY- NEWLY Adopted Rescue with Anxiety & Focus challenges
Jan, Scott & BUDDY'S story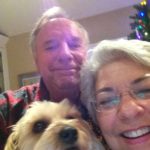 Our BUDDY is a rescue that our children got for my husband Scott (who ended up being a Mama's boy by the way). He's such an adorable little guy but he had a lot of challenges with Anxiety, Focus & Excess energy… In a short he was driving us NUTS!
I found Daniele to come and help us & the first thing she did to resolve BUDDY'S issues was to start training us to be the ALPHA so BUDDY would see us as his pack leader.
Her methods of teaching are simple, easy & FUN. BUDDY simply adores Daniele and did whatever she asked. BUDDY'S focus started to improve immediately. We learned just how smart our BUDDY was, and that he was capable of learning how to listen, follow commands & be obedient  to what he was being asked to do. We learned how to be patient with our BUDDY and get the results we wanted from him.
Daniele calmed BUDDY'S anxiety by teaching him to focus on his training & giving him massages… which he loved. She also balanced out his nervous system with a calming formula specifically picked for his system.
While we were training, BUDDY unexpectedly suffered a type of stroke called F.C.E. and his back legs were paralyzed. Daniele assured us that our BUDDY would walk again and started to administer Natural PROTANDIM & C.B.D therapy with massage rehabilitation & acupuncture. BUDDY is now walking & running and back to his old self 🙂
I would highly recommend Daniele to anyone who is having pet challenges, she can handle anything you may be facing with your pets and make the process fun, clear and resolve your challenge within a short amount of time… Your pets are worth it.
Jan, Scott & BUDDY
Meet Jenefer & ROXIE – Never been trained before SENIOR with Separation Anxiety who ROCKED IT!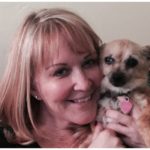 My 14 year old ROXIE the love of my life had suddenly developed severe Anxiety after I moved into my new place. She would bark constantly when I left her alone.
I tried everything!… Dog sedatives, Humane bark collars, dog silencers… you name it, nothing worked. Finally I found Daniele  and she scheduled a in-home pet session for ROXIE and I.
I saw results the in the very first session we had. ROXIE had never really had any formal training so I didn't know how she would respond. Daniele demonstrated what being a true Alpha was and ROXIE responded right away. Her methods are very effective, calm & with positive reinforcement the whole way through.
I learned how Smart and Capable ROXIE is and even though this was her first time being taught she excelled so quickly. A lot of the training was for me to learn how to communicate in a thorough way to and with ROXIE to get the results I needed and wanted. Daniele's methods definitely work! She caters to each pet and owner to give them specifically what they need to be successful.
I am very pleased with my results ROXIE is a new dog. I would highly recommend Daniele to all I know.
Jenefer & ROXIE
Meet Pricilla & SPANKY – You most definitely CAN teach old dogs new tricks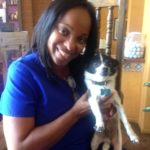 Who said you can't teach an old dog new tricks?…
SPANKY is 8 yrs. old and had a little training when he was a puppy, but never really got potty trained, socialized or was informed that the human was in control and he wasn't. Plus he had a lot of anxiety and focusing challenges.
He was allowed to do as he pleased until I just couldn't take anymore of the peeing and pooping in the house. I wanted my daughter to take him with her but her situation changed and he is staying home with us. I found Daniele and she came to our home to do a personality assessment of SPANKY & put together a specific training package just for him and us.
She started by teaching us the true meaning of an ALPHA and SPANKY responded to the training immediately. She taught us how to communicate with SPANKY so that he would obey all that he was being asked to do. It was very clear and worked quickly. SPANKY started to listen and have fun at the same time. She also has a patented formula called T.E.O.S. The Potty Solution she makes to set boundaries in the home that stopped the potty accidents and re-trained SPANKY where to go and where not to go.
Her process is easy to understand and apply and it works! Our SPANKY is a new dog. Our communication gap is resolved and now we have a well behaved doggie member of the family. I am very pleased with the work Daniele did for our little SPANKY. I would highly recommend her to anyone who is having a challenge with their pet.
Priscilla & Spanky
Meet Lidia, Nina & EMMA – Resolved My Way Or The Highway DIVA Attitude to Happy, Obedient & Balanced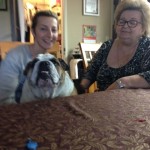 Our 5 yr. old American Bulldog EMMA started having POTTY accidents in the house. We had tried applying some training tips from books and other sources with no results.
Everybody was so frustrated because we adore our dog EMMA & didn't understand what had triggered her to suddenly behave this way.
I found Daniele and she came to our home and assessed EMMA & explained why she was acting out in this way. EMMA was having territorial anxiety about a new pet cat that was brought into our home and she was feeling insecure & threatened about her position in the family.
In our minds we were giving her plenty of attention and catering to her needs. Daniele is an Awesome Pet Communicator and she quickly found the solution of how to fix our challenge. She understands how to break through to the pet and teach them a new behavior while keeping the process fun and loving, not only for the pets but the humans also.
She Introduced her patented T.E.O.S. The Potty Solution & training and immediately we saw an improvement in EMMA'S behavior. she successfully put an end to the potty accidents & erased the existing urine smell in our home. Also she got EMMA to stop being stubborn and not listening, to being obedient to commands and behaving better with our guests.
We learned how to understand and communicate to EMMA consistently & successfully by the specific, step by step homework Daniele assigned weekly. She's a stickler about the homework and makes sure you understand it completely and do it diligently.
She also balanced out EMMA'S mood swings with a calming formula especially for her system to control her anxiety and provided an overall health supplement to keep her healthy in the future. Now our EMMA is an emotionally & physically happy, active, doggie.
I would highly recommend Daniele to anyone who is having pet challenges. She is attentive and offers thorough expertise to whatever challenge you may be having with your pets. She sincerely cares about your pets & you. and The results were quick and the experience was fun.
Gratefully the Lamana Family
Meet Bud & C.C. – SUCCESSFUL Transition from CAT Hater to CAT DADDY & Loving it!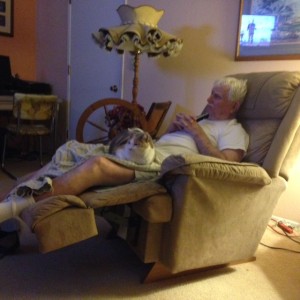 Hello everyone from Bud & C.C. Well we've got quite a story. As an older gentleman my pets have been mainly dogs and to be honest I'm NOT A CAT PERSON. Well, I met the love of my life who has a cat and it was a packaged deal to take both of them as family.
C.C. the cat has been through a lot of changes before meeting me so she had to warm up to me as well.
Daniele had worked with C.C. & her mom previously so this really is a part 2 of her story.
Daniele explained how cats are different then dogs and gave me some very specific foundations to understand & follow about getting along with C.C. and you know what IT WORKED!
This is us relaxing in my easy chair together. Who would have thought a previous cat hater could  be converted? Never say never is an accurate statement to make here I'm a true believer.
Daniele is still working  with both of us, but this is excellent progress. She really understands animals and has a special gift with getting through to them… & people too I would highly recommend her to anyone.
Meet Mary & Biscuit – Got the PEP back in my step with Second chance at LIFE Rescue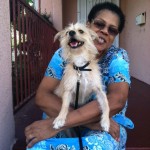 My dog Biscuit was a rescue personally hand picked and placed by Daniele. I received my little Biscuit after my husband and other dog passed. 
I wasn't sure if I was quite ready for another pet, especially one so young and energetic as Biscuit is, but I trust Daniele's instincts she has always been so precise and dead on. She told me when she met Biscuit she knew we were a perfect match for each other and that he would fill the void in my life beautifully.
He was a scrawny little thing when he first arrived. He had major focusing challenges and severe separation anxiety. 
Daniele began working with us… and I do mean us. You see I learned that Daniele's work isn't just about the pets it's about the people too. You truly get what you put into it & it WORKS.
She is excellent in bringing the best out of people and the pets by deeply observing and listening to her students and then motivating then all while making it FUN.
Well Biscuit and I improved immensely and believe it or not I learned to speak dog as Daniele put it and truly be his ALPHA by her guidance. She is very thorough and truly cares for and about her clients.
Biscuit is my FOREVER BABY and can take all the love and affection I have to give. I tell you I've never laughed so much in my life and had so much joy everyday. He is my family and I'm his I'm so thankful he came into my life. Thank you Daniele for giving me my Baby I would highly recommend her to anyone she's worth the investment and I promise you will be pleased.
Meet HOWARD, STEVE & AZUL – Balanced ANXIETY & Got My CONFIDENCE Back!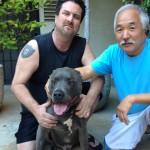 Our dog AZUL is a 90 pound bundle of love. He's so outgoing and friendly that it broke our hearts one day when suddenly he started acting so shy and introverted. He loves going for his walks, meeting new people and car rides. So when he started acting afraid and not being his usual self we were greatly concerned because we couldn't shake him out of it.
AZUL has an unusual family life… you see he has 2 Daddy's and a God father. Let me explain when I (Howard) adopted AZUL I moved and he couldn't live with me where I was so my dear friend (Steve) Daddy #2 agreed to let him live with him and his God father George.
Well of course I (Howard) visit and spend time with AZUL everyday so he has the best of both worlds. Daniele lives in our neighborhood and we knew about what she did being a Pet Behaviorist /Whisperer so when AZUL wasn't returning to his normal self we called her to find out what was going on and how to fix it.
She met with AZUL and immediately assessed what was going on. She told how extremely sensitive AZUL is and that his anxiety was based on a feeling he got of disapproval from someone in the neighborhood who was afraid of him and didn't like him and this was making him withdraw into his shell and not want to enjoy his normal walks. She took him for a walk and when he came to spot where he had been having fear issues,  he started to cower and wanted to go home. She explained to us why he was acting this way and then made a specific homework plan to reverse it and solve the challenge.
We knew that this was going to be work for AZUL but what we didn't know was how much of a part we would have to play in it, because the homework was for us too.  We had to do homework also and had to change along with AZUL to resolve this issue. Daniele began to teach ALPHA TRAINING 101 & help us understand things from AZUL'S point of view…. yep you got it we started thinking like a dog.
Sure enough AZUL starting acting like his old self. Each week he was getting better and better the whole process took about a month resolve completely. She is very thorough and explains everything so that you have a clear understanding of what's going on and how to fix it. She really gets beneath the surface & deeply observes the pet and the people and is very spiritually sensitive to your needs. AZUL is a Pit Bull and there are a lot of misconceptions & fears about his breed and Daniele is very aware of this and is on a crusade to educate people about it. 
Not only did she resolve our issues we were having but she took it a step further and gave us dietary & eating plans to keep our pet in optimum health based on his specific system and products to keep him from having hip dysplasia, something that is unfortunately within his breed.
I would highly recommend Daniele for any pet challenge & anyone who wants to get to know their pets on a deeper level. She is truly gifted.
Thank you Daniele
Howard & Steve
CALVIN' & CHASE'S TESTIMONY –

Successfully Resolved ANXIETY ATTACKS & Trust Issues to Balanced, Happy & Outgoing 
When I first got my dog Chase he was  9-month old, 3 1/2 lb. skittish white ball of fur. He had a lot of anxiety and was unconfident, untrusting and so afraid of the world. He would make sure to walk around people just to avoid them when I took him on walks shaking in fear. You would think he was a rescue, but in fact he was from a breeder. He wasn't socialized yet and I would soon realize all the challenges ahead me. I would have a hard time connecting with him and I simply didn't know what he wanted sometimes.

I scrambled searching the internet to read all about behaviors and experiences that other dog owners experienced and shared about their pet. There were many quick fix methods available but the human element was something that was missing and not discussed.

Daniele was able to tackle the human element I was looking for and unlock the emotional & psychological walls Chase had and explain them to me with clarity. In many ways, she functions like a therapist. She is very observant and an excellent listener. She can see thruthe problem and offer a solution with an effective plan. Her philosophy is true and simple: that dogs are a direct reflection of the owner. Resolve the owner's issues and you will resolve a great deal of issues associated with your dog. Amazingly I shared many of the traits Chase had. How I related to the world was parallel to how he did.

n my case, Daniele was able to work through my fears and triggers that was holding me back in life. As she gradually detangled Chase's issues – that once scared Yorkchipoo who was once frightened of the world and would walk away from people, now slowly began to grow more confident. His self esteem and posture began to take on the traits of a confident pooch. While at the same time, she simultaneously tackled my own which within months I began seeing tremendous results.

Working with Daniele, I was able to transform my relationship with my dog Chase, which has greatly affected my relationship with the people around me. I believe they've even notice the change in me because  our four-legged friends do hold the key to unlocking our hearts.

I'm a true believer than anyone change once they have the tools! i would highly recommend Daniele for your pet.
Meet Twila and C.C. – Reformed Candidate for My CAT From Hell to balanced & happy lap kitty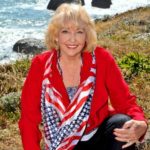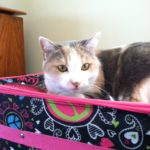 I have been working with Daniele Pet Behaviorist of Beijos corner for about 8 weeks now. My cat C.C.who is a light colored calico age 6, has always been a biter and pretty aggressive acting at times. She could be so sweet most other times.
She is very attached and bonded to me seeing that she's my only pet. She has always been a biter and since our recent move I decided finally I wanted this behavior to stop.
What really helped me was Daniele teaching me to anticipate and then how to control CCs behavior and most of all understand why she was behaving this way in the first place. Introducing, learning and teaching Guest Protocol to me and then C.C has been a GREAT tool to prevent her hissing or becoming aggressive in the future with me or others.
I also learned how to be the ALPHA using voice techniques and my body language and successfully communicate this to C.C. Daniele is great at her job and understands pets and people. I just wish I had known all of this a long time ago. I have had cats most of my life but this is the first one who acted aggressive.
My late husband played with her with his hands, sort of teasing her because he thought it was cute I learned this was a BIG NO! NO! with cats they don't enjoy this like dogs do. C.C.'s mother and most of the litter she came from seemed to be sort of naturally aggressive.
I'm glad I found Daniele and I would highly recommend her to anyone who is having pet challenges!
Twila Le Page & C.C.
Meet Carole, Joe(Parents) & the Crew – Resolved Excess Barking issues & Territorial Potty accidents in the house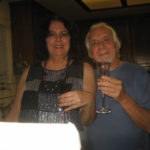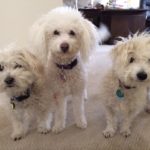 I met DANIELE LARGO outside my bank about a year and a half ago. She had such a beautiful, uplifting energy about her. I thought she was so beautiful and happy, and I just wanted to get to know her. She has such an inviting demeanor; we just started talking. Somehow we ended up talking about dogs.
She is a remarkable person and dog whisperer extraordinaire. We have three cute little white rescue dogs and have been putting up with a lot of mischief from them. We'd call one and he/she would turn and walk the other way; plus, two different dogs each thought they were the alpha! We had toileting problems, too much unwanted barking, they were impossible to walk, you get the picture. We love them so much – Jack, J.J. and Kate. We're planning to move sometime soon, and for so long I'd been thinking about what to do about our doggie situation. I knew I needed to do something – SOON. Sweet Daniele had been keeping in touch with me during the gap since meeting, but momentarily I had forgotten about Danielle's special talent. Surprise, she called me the next day!
Since we started working with Daniele things have really changed around here. We see the changes as each day goes by. Joe and I have worked with the dogs in all the ways she has taught us and it has really paid off. Yes, people need to get engaged in the learning process along with their pets. We have learned so much about understanding dog behavior, an essential part of having a great relationship with your precious baby. Danielle is so in-tune with our dogs and the ways we all relate together, that she understands what's going on with all of us. They each have different issues and they all love Daniele. They are anxious to please her, and now they focus with us much better also. Each one has really stepped up and they are falling into line as a cohesive family unit. She resolved our excess barking issues, house potty problems, doggie jealousy challenges & everybody is focused and more obedient. Our home is happier, quieter and calmer thanks to this special lady & her expertise.
We highly recommend her for anyone having problems with their animals, or, if they just want to have a better trained dog, or other issues. Daniele has also helped our doggies, and Joe and I to better health with the Protandim she carries. What a difference! She has so many great solutions that have helped us accomplish our goals, for our doggies and ourselves. We couldn't be happier that we engaged Daniele to help us.
Call Daniele, she's worth more than you can imagine…you won't be sorry!
With Gratitude,
Carole and Joe Wike
L. Syas
HIGHLY RECOMMENDED
I have seen Daniele in action and she is AWESOME!!!! I have never seen someone so gifted that gets tremendous results working with animals. I would strongly recommend her to anyone who is having pet challenges.
Meet Claire (Parent) & Lex – Successfully overcame EXTREME Shyness & Anxiety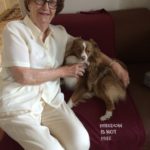 Lex is a miniature Australian Shepherd with major anxiety issues. When we got him he wouldn't let anyone pet him… He was terrified of people. If we were inside he ran out the doggie door outside. If we went outside he ran inside of the house. This went on for months.
Finally I found Daniele and she began working with Lex. Now he knows his training commands. He's like a brand new dog he let's me and company pet and hand feed him he's very social now (Unbelievable!).
Daniele has an amazing way with animals they simply adore her she has a talent for bringing even the most withdrawn pet of or their shell. . I would highly recommend her to anyone who has pet challenges. Lex still has a way to go… but he's totally improved drastically from when we got him.
Thank you Daniele
Claire & LEX
G. Greer – Successful Breakthrough for a NEW Cat Mama that can understand Body Language & Train like a Pro
Two thumbs up for Ask Daniele 4 Pets!
Daniele is a really talented woman with a special gift. She has really helped me with my timid rescue kitten Chester like the Cheetos. She taught me how to determine my his personality and how to understand my his needs.Now I feel like me and my tabby cat Chester are building a special bond. Daniele really has a way with animals. When you sign up for Beijo's Corner, the website sends monthly newsletters which I always look forward to. It always has great tips, fun facts, and informative articles featured in them. Beijo's Corner is a one stop shop for pets! I would highly recommend it to anyone with furry family members.
Meet Mary & Happy (Before & After) – Successful Breakthrough with Rescue w/ TRUST Issues & Aggression 
Before                                   After
"Happy" was a rescue found wandering and sitting in the middle of the intersection of Mary Rall's neighborhood in the summer of 2008.
Why he wasn't hit by a car was only a sheer act of God's mercy. His white coat was badly matted and he was filthy. He wouldn't let anyone approach him.
Daniele was called to the scene after he finally settled under a parked car in the neighborhood. When she arrived she approached the car cautiously and laid down under the car with him to coax him out.
She was under there 2 hours. I'm sure cars driving by were wondering about the shoes  sticking out from behind this parked car. She finally coaxed him out enough to to pick him up and brought him inside the yard of my house.
We set up a make shift dog house on my patio. I told her I had always anted a dog of my own… but this one seemed like too high maintenance for me. She assured me with a little T.L.C. and a lot of patience that we would be a good fit.
She convinced me to let him stay, and after a week of following her instructions he had come to the point of letting me pet and handle him a little. At that point I knew he was my dog and Daniele named him "Happy." We took him to the vet. and the groomer, he had no real big health issues and the vet told me he was about 7 years old.
After the groomer I decided he would stay indoors. "Happy's" issues were mainly emotional. Daniele explained to me how she could tell he had been abused by mainly         men. The truth is he wouldn't let any man get within 10 feet of him (not even my husband) he would bark and then run away.
Daniele gave me specific guidelines to follow and what realistically to expect. Each week "Happy" was improving tremendously! We were a perfect fit! Now I can't imagine how I ever got along without my "White Shadow" he's called that because he follows me wherever I go.
"Happy" now spends his days in comfort and peace. He goes to the groomer every 2 weeks and loves walks, snacks (my husband is the main giver of the snacks by the way)
G. Thompson – Understanding how to successfully speak DOG
New Pet Lover
Ask Daniele 4 Pets is unique and simply amazing. Never before have I experienced such complete understanding of what pets must go through simply because we humans cannot understand them. Not only can I have all of my questions answered, but I find everything for pets in one place. It's high-time for pets and humans to be on the same page. I have been following both for some time. The love, passion, expertise, quality and availability of services, and the information shared has given me a desire to get a pet of my own. Keep up the good work Danielle. I see this growing into an all-out international movement.